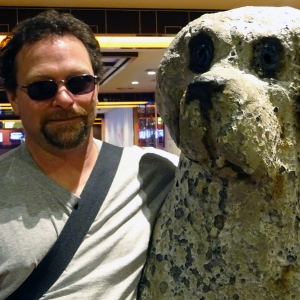 Areas of expertise
Robin has been a theatrical performer, designer, manager, technician, and playwright for more years than he cares to mention. He stays active in professional, nonprofessional, and academic theater.
Publications
There have been various productions and readings of his written work in NYC, Chicago, and in upstate NY, where he currently lives. Published plays include:
Directive∞Infinity: The Infinity Trilogy
What would you do if you had to choose between death or being made into a machine with an infinite life span? This trilogy of plays explores this and other questions. The year is 2257. Earth has become an overheated planet where levels of hunger and poverty are only matched by the amassed wealth of the few "Elite" who control the "Company." While on a yearlong space shuttle flight to Mars where they will spend ten years making big money working in a mining colony on behalf of the Company, four travelers awaken from hibernation at the halfway point for periodic "carbo-loading" only to discover that a computer error has rendered their hibernation tubes no longer functional. As explained by their android pilot, there remains insufficient food on the ship to sustain them at their more active awake metabolism. They have only two options: starve or undergo "Transferal," a process which uploads the contents of the brain to a CPU implanted in an android body. Transferal preserves all cognitive brain function as well as memories; however, emotions and sensations are no longer possible. The Infinity Trilogy explores the process of loss each person experiences as they go through the stages of acceptance of their current situation in the face of what must be done to retain consciousness in the face of death, or retain a right to death at the cost of consciousness. And when all is said and done, what will they do with what they have left? And what other unforeseen dangers lie in wait?
Plays 56
PLAYS 56 presents three full length plays and one bonus short play. Too Depressing for Words is a romantic comedy about Frank, a lonely amateur writer in a dead-end job struggling with writers' block and a maniacal boss. Frank's characters Artice and Earnest come to life as he struggles to type out their stories on his laptop. This romantic comedy will have you cheering on the heroes of Frank's scenes even though writers' block ends them all with the inevitable expression "it's all too depressing for words." In the Darkness of Daylight is a horror mystery about one man's struggle to cope with his wife's Alzheimer's disease. This tale takes place in an old mansion that comes ready-stocked with ghosts. Meet the ghosts, who haunt day and night, while John is asleep or awake. Meet Tally, a little girl who believes she has squatter's rights to the house. And finally, meet Bridget, the pretty alcoholic from across the fields who insists on welcoming strangers to town with pans of brownies. Amongst the interruptions, John and wife Denise work out their trials in a horror dream world that threatens to spiral out of control. Bound is a violent thriller about two young women trapped in a diner by a snowstorm with two men who determine that they are lesbians...and need to be taught a lesson. Sarah and Lyla are driving across country when they are trapped at Phil's Fill-up diner with Phil and Christine in the mythical town of Bound by whiteout conditions. They are joined by Jonny and Red, a couple of rough locals who bring with them a tale of violence which results in plans for revenge, and explores the question: where is justice in a world where the laws may not be able or may be unwilling to touch the lawless?
Sam Spade Always Gets Her Man
Sam Spade has a problem. In this radio noir comedy, Private Investigator Samantha Spade and her trusty secretary, Miss P, go up against Sam's nemesis to solve the case of a missing fiancé. But, when Sam falls hard for her client and he turns out to be a suspect, all bets are off in this wacky mystery comedy with sexy hair. "It stinks in here." So, what is a noir PI to do? Get her guy. And Private Investigators always get the goods on the bad guys. Because, Sam Spade always gets her man.
Sam Spade and the Venus Fly Trap
Sam Spade has a new client...and a new lover? Now all she needs is to get paid...and for the heat to work. And who is this Veiled Lady? When Miss P is kidnapped by Sam's nemesis, Grotesque Mind, who demands a huge ransom, Sam finds herself down one secretary. Once again, Floozi is on board with the intel to figure it all out by the explosive ending in Sam Spade and the Venus Fly Trap.
Sam Spade Caught in the Spider's Web
Sam Spade is caught in the web! In this radio noir comedy, Private Investigator Samantha Spade is about to send her nemesis, Grotesque Mind, finally, to the can. But, when Sam tries to put the last piece in the puzzle, she finds herself in hot water. Now, suddenly, Sam is in the can for a crime she didn't commit. When those loyal to her start to jump ship, accuse her of murder and leave her in the lurch, what is a straight up cold PI to do? In a world where the bad guys turn out to be good, and the good guys turn out to be better, Sam has a lot going for her. Because, Sam Spade always gets her man!