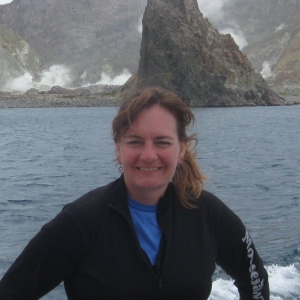 Areas of expertise
Igneous petrology, volcanology, weathering of volcanic terrains
Research interests
I am a broadly trained igneous petrologist and volcanologist interested in the evolution of magmatic systems. I have developed several field-based research programs (Dominica, Oregon, western Mexico) to address such topics as timescales of magma crystallization and eruption, the influence of magmatic activity on water systems, and the breakdown of volcanic rocks. I employ a variety of analytical instrumentation, both at Union (SEM, ICP-MS, IC, IRMS) and nationally (geochronology labs at Stanford and University of Arizona).
Teaching interests
GEO 220: Mineral Science
GEO 320: Origin of Igneous and Metamorphic Rocks
GEO 206: Volcanology
GEO 405: Senior Seminar
ISC 070: Hot Topics in Cool Science
ISC 346T: The Adirondacks: "A Peopled Wilderness"
Publications
( * = students):
Joseph, E.P., Frey, H.M., Manon, M.R.F., Onyeali, M.C.*, DeFranco, K.*, Metzger, T.*, and Aragosa, C*. (2019) Continuation of the fluid geochemistry monitoring time series for geothermal systems in Dominica, Lesser Antilles island arc: 2009-2017: Journal of Volcanology and Geothermal Research, v. 376, 86-103.
Frey, H.M.,Manon, M.R.F., Brehm, S.*, and Babiak, R.N.* (2018) Episodic crystallization in young explosive eruptions in Dominica, Lesser Antilles revealed by U-Th dating of zircons: Geology, v. 46, 887-890.
Waters, L.E. and Frey, H.M.(2018) Crystal-poor rhyolites and rhyodacites from Volcán Tepetiltic, Mexico: Evidence for melt formation, crystallization and eruption over short timescales: Journal of Volcanology and Geothermal Research, v. 361, p. 36-50.
Frey, H.M.(2016) Dominica: The Sleeping Giant in the Caribbean: F&M Scientist, Winter 2016, 3-34.
Frey, H.M., Lange, R.A., Hall, C.M., Nelson, S.A., Delgado-Granados, H., Mastin, L.*, and Wineberg, D.* (2014) 40Ar/39Ar geochronology of Volcán Tepetiltic, western Mexico: time scale for andesite cone construction and the climactic eruption of rhyolite-rhyodacite: GSA Bulletin, v. 126, p. 16-30.
Frey, H.M.and Lange, R.A. (2011) Petrologic complexity in andesites and dacites from the Tequila volcanic field, Mexico: Resolving the effects of degassing vs. magma mixing: Contributions to Mineralogy and Petrology. v. 162, p. 415-445.
Lange, R.A., Frey, H.M., and Hector, J.A.* (2009) A new thermodynamic model for the plagioclase-liquid hygrometer: American Mineralogist. v. 94, p. 494-506.
Additional media
Field areas
Oregon, Mexico, Maine, Dominica
Academic credentials
B.A., Franklin & Marshall College; Ph.D., University of Michigan