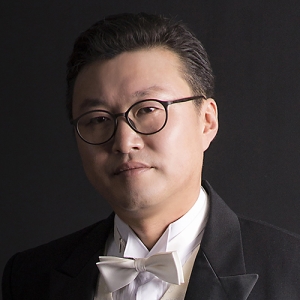 Jin Byun
Job Title
Visiting Lecturer of Music
- Director of Music Performance
Areas of expertise
Choral Conducting, Orchestra Conducting, Opera, Art Song, Musical Theater, Dictions (French, German, Italian, Korean)
Research interests
His current research centers on "Korean Diction for English-Speaking Singers and Conductors," delving into the intricacies of pronunciation and vocalization. I aim to provide a valuable resource that enables English-speaking musicians to authentically interpret and perform Korean vocal music while fostering cross-cultural musical connections.
Distinctions
Jin Byun, a Director of Music Performance at Union College, brings a wealth of accomplishments and leadership. His inspiring direction extends to the community, showcased through transformative performances and collaborative ventures. Notably elected President of NATS South Korea Chapter, he underscores vocal education's importance. His fifteen-year tenure at Kean University has indelibly shaped Voice and Opera students' futures. As a conductor, he elevates the 97-year-old Oratorio Society of Queens to remarkable artistic achievements. Byun's journey is further highlighted by a series of prestigious awards, including the Opera Guild Competition, Marie E. Crump Vocal Arts Competition, and the CS Vocal Competition, all testament to his dedication and artistry. His legacy, marked by accomplishment, expertise, and innovation, makes Byun an invaluable asset to Union College's esteemed musical landscape.
Areas of interest
Korean Diction: Exploring the intricacies of Korean pronunciation and vocalization, particularly focusing on creating resources and techniques for English-speaking singers and conductors to authentically interpret and perform Korean vocal music.

Comfort Women: Investigating the historical and cultural aspects surrounding the issue of comfort women during World War II. This research delves into the narratives, experiences, and broader implications, seeking to raise awareness and promote understanding of this sensitive historical topic.
Academic credentials
Academic credentials: B.A. in Voice, Seoul National University, South Korea; P.D.(Performer Diploma) in Professional Opera Studies, Indiana University; M.M. in Conducting, Queens College; D.M.A. in Choral Conducting, University of Connecticut