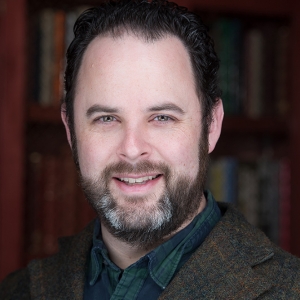 Dan Venning
Job Title
Assistant Professor of Theater and Dance
Preferred pronouns
he/him/his
Areas of expertise
Theater history, dramatic literature, theater criticism, Shakespearean performance, musical theater, theater and nation building.
Research interests
He is working on a book about Shakespearean performance and nation-building in nineteenth-century Germany.
Teaching interests
Introduction to the Study of Literature: Drama; History of Theater; Contemporary American Theater and Drama; Theater Criticism; History of Shakespeare in Performance; Musical Theater since 1970; Nonwestern Theater and Global Performance Traditions, Culture and Nation (FYP).
Publications
Dan Venning has published articles in Asian Theatre Journal, Forum for Modern Language Studies, and Performing Arts Resources, as well as numerous chapters in scholarly edited collections, book reviews, and performance reviews in a broad range of scholarly journals.
Recent Publications:
"Game of Thrones as Gesamtkunstwerk: Adapting Shakespeare and Wagner" in Vying for the Iron Throne: Essays on Power, Gender, Death and Performance in HBO's Game of Thrones. McFarland and Company (October, 2018).
"Richard III in the Era of Trump" (Review essay). PAJ 40, no. 2 (PAJ 119, May 2018): 1-12.
"'See the Revolution of the Times': Ivo van Hove's Materialist Shakespeare Cycles" (Review Essay). Shakespeare: A Journal 14, no. 2 (May 2018): 181-88.
"Kings of War by William Shakespeare and Toneelgroep Amsterdam" (Performance Review). Theatre Journal 70, no. 1 (March 2018): 90-92.
"Julius Caesar, A Midsummer Night's Dream, and Hamlet: The Public Theater's Summer Shakespeare" (Performance Review). Shakespeare Bulletin 35, no. 4 (Winter 2017): 711-20.
"Isaac Asimov's Shakespeare." In Critical Insights: Isaac Asimov. Ed. M. Keith Booker. Ipswich, MA: Salem Press, 2017. 224-38.
"Review Essay: Subject Histories of Taylor Mac's 'Radical Faerie Realness Ritual' History." With David Román, Kalle Westerling, Jennifer Buckley, Miriam Felton-Dansky, Kim Marra, César Alvarez, and Erik Patterson. Theatre Journal 69, no. 3 (September 2017): 403-15.
Additional media
Areas of interest
Before entering academia, he was the Associate Dramaturg at the California Shakespeare Theater.  
Academic credentials
Ph.D., City University of New York; M.Litt., University of St. Andrews; B.A., Yale University