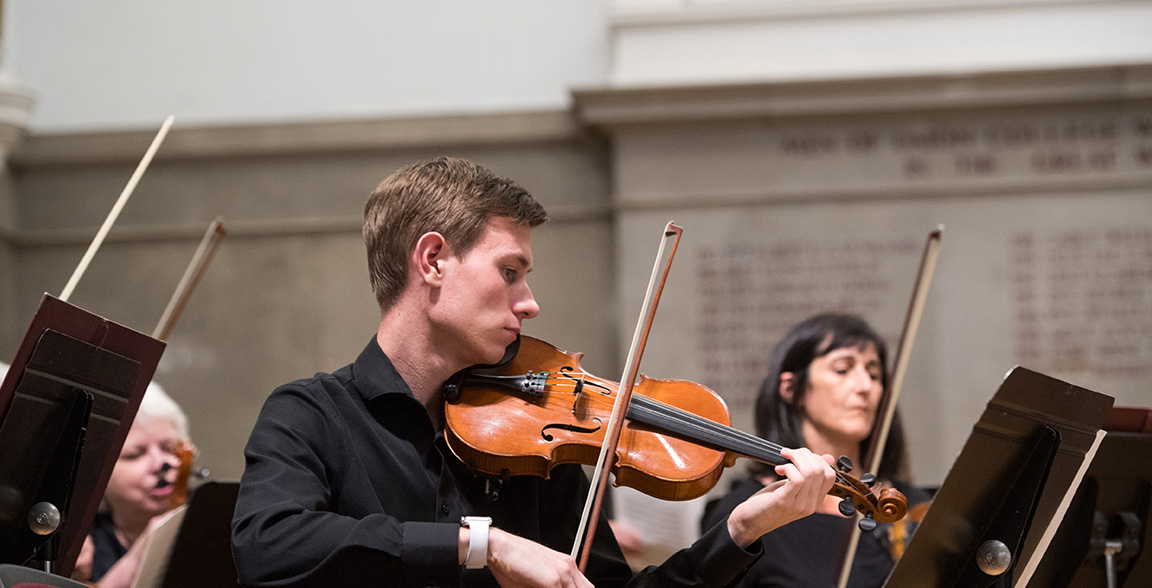 Create, perform, explore
From courses to concerts to student clubs, the arts are infused throughout campus life.
We offer more than 600 courses in visual art, music, theater and dance, taught by faculty who are accomplished in their field and dedicated to teaching.
Classes such as The Illustrated Organism (studio fine arts and biology), and facilities such as the Phasor Lab, a professional-grade engineering and music studio, also feature exciting possibilities in interdisciplinary learning that are uniquely Union.
Our arts programs aren't for artists only. Choose art as a major or minor, or find new ways to enrich yourself through dozens of clubs, events and activities. The campus comes alive with exhibitions, receptions, recitals, performances, film series, poetry readings and guest speakers throughout the year.
Events

Annual student choreography showcase
Annual dance residency, featuring internationally recognized troupes
Art for Progress, student art fundraiser
Art exhibits at Mandeville Gallery and the Wikoff Student Gallery
Chamber Concert Series
Empty Bowls (ceramics) fundraiser
Field trips to Broadway, Tanglewood, concert halls, and museums and galleries
Film screenings, festivals and staged readings, featuring student work
Film series
Lothridge Festival of Dance
Student recitals
Taylor Music Time performances
Theater productions
Winter Dance Concert

Clubs & organizations

Clubs

African Dance
Anime
Ceramics
Ballroom Dancing
Bhangra
Dance Team
Hip Hop
Terra Dance Company
U-Break
Mountebanks, student performing group
No offense Improv Group
Film Committee
A capella groups (Dutch Pipers, Eliphalets, Garnet Minstrelles)
Concert Club
Heavenly Voices Choir
Pep Band
WRUC

Organizations

Taiko Ensemble
Union College and Community Chorale
Jazz Ensemble
Camerata Singers
Union College and Community Orchestra
Early Music Ensemble

Publications

Concordiensis, student newspaper
Dutch Oven, humor newspaper
Garnet Yearbook
The Aleph (terms abroad)
The Idol magazine

Theme houses

Arts House, arts
Dickens House, literature
Maker House, creativity and collaboration in sewing, welding, woodworking and other forms of making

International opportunities

Bali, Indonesia, mini-term
Cuba mini-term
London, England, theater mini-term
Paris, France, printmaking at the Louvre mini-term
Paris, France, art history mini-term
Facilities
FEIGENBAUM CENTER FOR VISUAL ARTS
This newly renovated spacious building has studios for drawing, painting, sculpture, printmaking, and 2D and 3D design, as well as a media lab, photography suites and dark rooms. The center also houses the Crowell and West galleries, individual studios for advanced students, and a metalworking studio alongside an outdoor sculpture space.
TAYLOR MUSIC CENTER
The Music Technology Studio, Early Music Studio, World Musics Room and Choral Library are all housed here, along with classrooms, practice rooms and faculty offices. The intimate Emerson Auditorium, which seats 100, hosts Taylor Time, a series that brings professional musicians to campus for performances and workshops.
PETER IRVING WOLD CENTER
The Wold Center houses the Phasor Lab for electrical engineering and music research, which has a recording studio equipped with a Steinway. The Collaborative Design Studio provides opportunities for prototyping design, 3D printing and digital fabrication. The Castrucci Gallery explores intersections between arts, math and science.
YULMAN THEATER
The Main Stage hosts major student productions, from the classic to the contemporary. The Black Box Theater is a flexible space for staged readings, monologues and other performances. This modern complex also features a design studio, and scenic and costume shops, and it is home to the century-old Mountebanks student-run drama group.
Henle Dance Pavilion
Spacious and light-filled, this 7,000-square-foot facility overlooks Jackson's Garden. The  dance studio and lobby/rehearsal space have 20-foot ceilings that safely permit lifts and aerials. A student choreography showcase is held in the studio each spring. The pavilion also includes classrooms, a costume shop, offices and meeting rooms.
THE NOTT MEMORIAL
This National Historic Landmark is home to the Mandeville Gallery, which exhibits nationally recognized contemporary artists. The Wikoff Student Gallery showcases student works as well as the annual campus-wide LGBTQ+ exhibit. The popular Lothridge Festival of Dance is held in the Nott each spring during Steinmetz Symposium.
Memorial Chapel
Historic Memorial Chapel is used for choral and orchestral performances. Known for its superb sound – the acoustical ceiling was designed by one of America's preeminent scientists – the chapel is home to the Chamber Concert Series, free to students. It also is an ideal performance space for student a cappella groups and guest artists.
SCHAFFER LIBRARY
The library hosts the Art Installation Series, in which students can interact with an artist at work. It is also home to several of the College's most prized possessions, including the rare "Elephant Folio" edition of Audubon's Birds of America and original Ramée campus drawings. The Permanent Collection is also housed here.